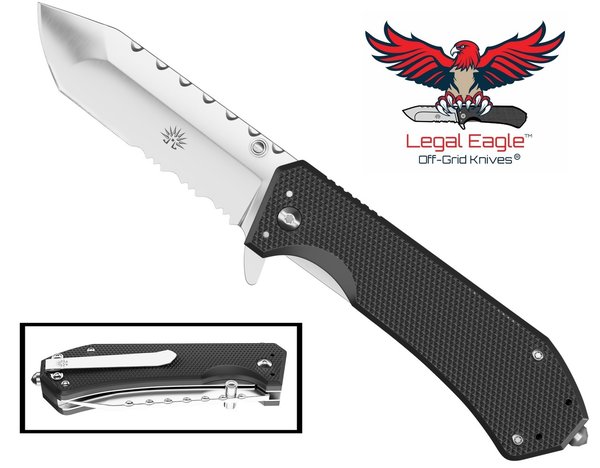 There are many thoughts about the benefits of straight edge versus serrated. Each has their particular strengths and weaknesses, which greatly affect their uses, and what people need them for. If you work in an area that requires a wide range of tasks, it's worth considering a semi-serrated AUS8 blade.
The semi-serrations combined with the durable AUS8 steel make for an effective blend to see you through whatever life may throw your way.
What is AUS8 Steel
One of the most important aspects of any knife is the steel it's made from. AUS8 steel is a tough metal that's capable of taking a razor sharp edge and retaining it. With high chromium content, you don't have to worry so much about basic maintenance, as this steel is strong, durable, rust, and corrosion resistant.
Finding a stainless steel that has good edge retention is difficult, but due to the heat treatment and the composition of the alloy, this steel succeeds brilliantly.
Why Choose Semi-Serrated
A semi-serrated blade is ideal for those who are unsure what they may need on any given day. A smooth edge is perfect for most tasks, particularly finer work and long slices, but there are times when more is required. A serrated edge is great for cutting through rope and sawing small branches, amongst other things.
Having both in one allows you to carry less, and makes an excellent tactical everyday carry choice. The serrations are nearer to the handle, giving you more leverage in sawing motions, while the straight edge is at the tip. This makes it easier for slicing and cutting tasks, carving, and more precision in any work.
Off-Grid Knives is proud to offer several different types of semi-serrated blades. Our experts are standing by to help you find the best edge for your needs.
We are committed to providing you with the best buying experience possible, so reach out to us today and let us provide you with the right edged blade for your needs.