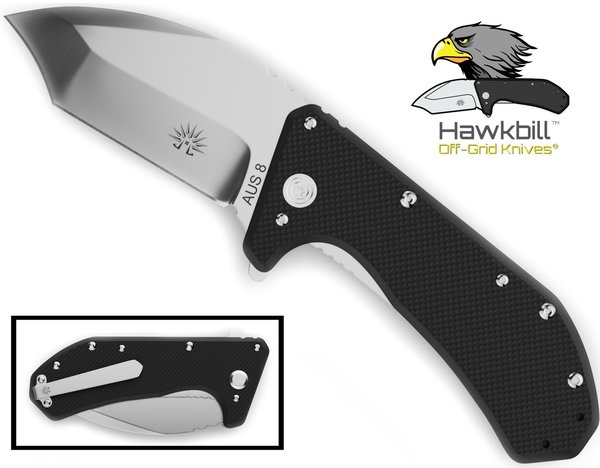 When looking for a new knife, it's important to consider how it's made. A cryo Japanese AUS8 steel blade is perfect, no matter the style. You can find a variety of blades made out of this sharp, durable steel, so you can find exactly what you want without sacrificing quality.
The Hawkbill Hybrid Flipper Knife and the Rapid Fire Ranger Assisted Flipper Knife are just two examples of knives that Off-Grid Knives stocks. Vastly difference in edge styles and primary uses, yet both still offer a sharp, long-lasting edge and durability.
What is AUS8 Steel?
Japanese AUS8 steel is a heat treated, high-quality stainless steel. Since the primary difference between blades is simply the steel it's made from, it's important to have excellent quality if you want the blade to last.
Most stainless steel is softer than carbon steel, which means that it loses its edge quicker, though it's easier to sharpen. AUS8 steel is high in chromium and heat treated, which means you can get a sharper edge and maintain it longer than other stainless steel knives.
AUS8 steel also keeps all the best points of stainless steel. It's resistant to rust and staining, with the high shine that you've come to expect from your knives. Easier to sharpen than carbon, with that toughness to make it more durable, it really is ideal steel for any knife.
Ideal Uses
Perfect for anything that needs a sharp edge. Military, law enforcement, hikers, campers, survivalists, and preppers, a cryo Japanese AUS8 steel blade offers something for everyone.
Whether you spend your days cutting open boxes, or you need a reliable knife to slice rope in a hurry, AUS8 steel can help you.
We are passionate about what we sell and are always looking for ways to improve our products and customer service. Contact us today if you have any questions, suggestions, or concerns about purchasing our products.