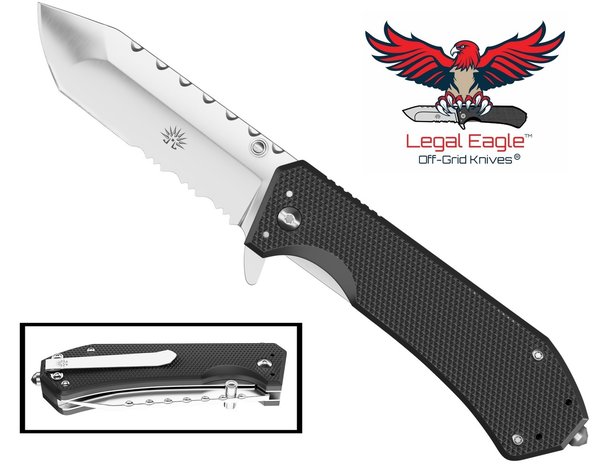 Most steels are called "stainless" unless they're high in carbon. Stainless steel knives are the most popular on the market, and there's a reason for it.
Off-Grid Knives stocks a wide variety of stainless steel knives for our customers to choose from. We have a team of experts standing by, ready to help you choose which steel is best for you, based on your needs.
Properties of Stainless Steel
The higher chromium content of stainless is a large part of what gives it the name. Stainless steel requires less polishing and cleaning time, as these knives are far more resistant to rust, staining, and corrosion than their carbon counterparts.
These blades are tougher, meaning they can absorb more energy, and as a result, are more durable. If you use stainless steel for outdoor cooking, then the flavor is better, since they don't require an extra coating to prevent rust or corrosion.
If you're concerned about the environment, then it's good to know that stainless steel is one of the most recyclable metals on earth. So if you do manage to break or chip a blade beyond repair, you can turn it into your local recycling center.
Why Choose Stainless Steel Knives?
Stainless steel is an alloy known for toughness, durability, and corrosion resistance. With more flex than a carbon steel knife, it's less likely to break or chip and requires less cleaning than carbon.
As a matter of fact, there is a wide variety of steels that fall under the heading of 'stainless.' AUS-8, and all of the 440s - A, B, and C - are all classified as stainless steel and all highly sought after as knife materials. We could go on listing steels, but suffice to say that there are a number of them available.
Whether you're looking for a new fillet knife, hunting knife, or an EDC, Off-Grid has you covered with a wide range of stainless steel knives.
We are passionate about what we sell and are always looking for ways to improve our products and customer service. Contact us today if you have any questions, suggestions, or concerns about purchasing our products.