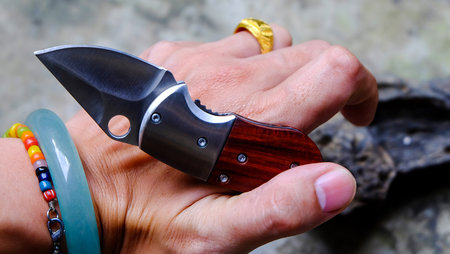 If you are searching for a compact knife for fighting purposes, we offer a lot to choose from here at OffGrid.
Characteristics of a Good Fighting Knife
Knives for fighting, generally referred to as "fighters," commonly have a fixed blade between seven and ten inches long.
These knives often taper to add lightness and speed. Many fighting knives have very sharp points. They are ergonomically designed at the handle to accommodate several different grips.
The Bowie Knife is an excellent example of a North American fighting knife. While it is a great tool, the Bowie is also a lethal weapon.
Top Fighting Knives
There are many good fighting knives. Here is a cross-section of quality blades:
1. Benchmade 162 Bushcrafter
This fixed blade knife is from a company that produces great folding knives. The same craftsmanship is true of their fixed blade knives. The 162 Bushcrafter is durable and reliable. Made of polished, S30V stainless steel this blade cuts cleanly. The contoured G-10 handle provides an outstanding grip. The knife comes with a leather sheath with both a D-ring and retention strap and a flint rod loop.
2. Ka-Bar USMC Fighting Knife
The Ka-Bar fighting knife has been used in military and civilian life for self-defense. The original design of the knife goes back to World War II. It was used by Marines in hand-to-hand combat. leather grip is practical. The steel blade consistently remains holds a sharp edge.
3. Super SOG Bowie Knife
The Bowie Knife was designed for heavy cutting. It has a hefty 7 and a half-inch steel blade with a black TiNi finish. The well-balanced ergonomic leather handle makes an easy grip.
4. ESEE 6P-B Fixed Blade Knife
The ESEE 6P-B Fixed Blade Knife has a high carbon steel blade known for superb strength. This blade stays sharper longer than its stainless-steel competitors. The durable construction of this knife makes it both versatile and dependable.
5. SOG Seal Pup Elite
This is part of the SEAL series lineup. Special Forces use it as part of during tactical operations. The knife has a thicker .185 stock steel blade with a black TiNi finish. It cuts hard and stays sharp.
6. Benchmade Contego Fixed Blade Knife
This Benchmade is an all-purpose tactical knife. It's large enough for self-defense and cutting tasks. Its 5-inch reverse tanto S30V steel blade has a fine edge and protective coating.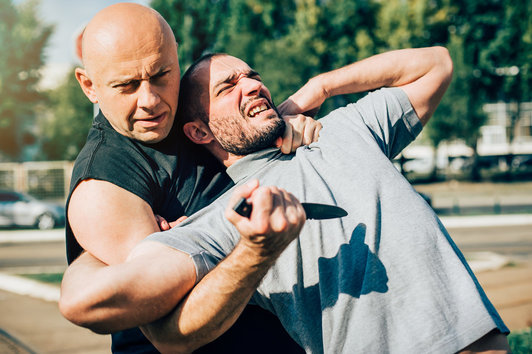 7. Tops Screaming Eagle Hunter Knife
This is another military survival knife. It was developed for the Army's Airborne Division. It is reliable and multi-functional with a steel blade designed for outdoor tasks.
8. Cold Steel Recon Scout
Firefighters use this cold steel knife. It is prized for its consistent performance. The fixed 7.5-inch-long high carbon steel blade has a durable Kray-Ex handle.
9. KA-Bar Becker 22
The KA-BAR Becker 22 is bigger and older than my other choices. Known for its toughness, this knife has a solid Zytel handle and a 10-and-a-half-inch, plain edge steel blade.
10. Gerber LMF II Survival Knife
This highly versatile fixed stainless steel blade knife is up to any cutting and slicing job. The pointed and can cut through glass but also function as a hammer Integrated lashing holes let you convert to a hunting or self-defense spear.
If you are in the market for a compact knife for sale, we have many which are sure to fit your fighting needs.