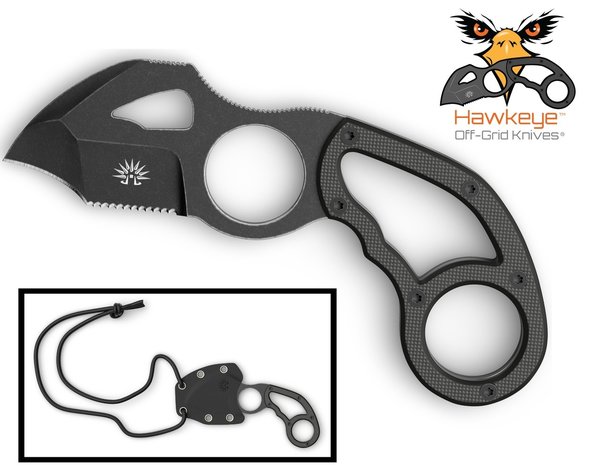 Your everyday carry is a knife that you will be using or want to have with you for protection whenever you leave your home. For many, this knife must be quick-to-hand, sturdy, and durable. The best neck knives for EDC will have a few things in common, amongst their differences.
Common Features of a Neck Knife
A neck knife is usually a small, fixed blade that is carried around the neck by a cord or chain. The type of fastening varies, from para cord to ball chain (as used for dog tags), to leather, to anything you happen to have on hand.
There are two ways of carrying your neck knife. The first is handle up, in what is called the 'mountain man' fashion. This method is more traditional, utilizing leather and beading, and the knife is often left unfastened for an easier draw. This type of carry is most often seen in reenactments, county fairs, and similar.
The other method is handle-down and is more commonly seen today. These utilize a snug sheath that holds the knife until it is pulled sharply. Some manufacturers prefer to make a slightly looser sheath and add magnets inside, but this method can cause a loss of knife if the magnets fail.
The Best Neck Knives
The best neck knives for EDC will be made from durable steel that is easy to care for and has good wear resistance. AUS-8 steel, M390, the 440 range, these are all great steels that won't crack at the first sign of usage. As always, a full tang is a must in any blade, particularly one that can be responsible for your survival.
Because they're being worn around the neck, the knife should be lightweight, and, if you're carrying it handle down, have a very snug sheath. A great sheath option is Kydex, which is a plastic type that can be fitted specifically to each blade.
Off-Grid Knives' offering is the Hawkeye Camping Neck Knife, a karambit style knife which features AUS-8 steel, and a G-10 handle. Contact us to find out if this is the right knife for you.
We are committed to providing you with the best buying experience possible, so reach out to us today and let us provide you with the right edged blade for your needs.