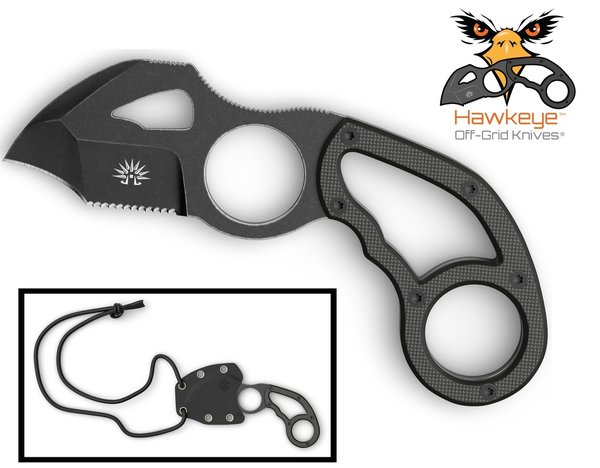 If you're heading into the woods for some rest and relaxation, think about taking the Hawkeye Camping Neck Knife along. With increased functionality and intended to be an all-purpose camping knife, the Hawkeye is built to last.
Slung around the neck for easy access, this camping knife has a blade profile that provides greater flexibility and efficiency for any user. Resistant to both rust and scratching, you can be sure that this knife will still look good after you've taken it out into the wilderness.
Features of the Hawkeye Knife
The Hawkeye Camping Knife has a tanto tip with a hawkbill curve to it and is sharp along both edges. The bottom has a serrated portion, perfect for sawing smaller pieces of wood down to usable lengths. Made from AUS-8 steel, this knife is designed for strength and toughness.
Carried in a Kydex sheath and fastened with 550 Paracord rope, everything about the blade says durability. A comfortable handle complete with finger loops ensures you'll never lose your grip no matter the situation.
Who Can Use It
Due to its blade profile and properties, this knife is perfect for many circumstances and professions. Campers, travelers, and hikers can sleep better knowing they have a knife that will help them survive, whether it needs to cut wood, gut a fish, or slice through a rope. Law enforcement, military personnel, and those who need to keep a go-bag prepped can include this one knife and feel secure that they're ready for anything. Whether this is your first knife or your fifth, the Hawkeye Camping Neck Knife is perfect for your needs.
Here at Off-Grid Knives, we are determined to bring you the very best blades, and our teams are committed to providing you with expert help in choosing your next knife.
We are passionate about what we sell and are always looking for ways to improve our products and customer service. Contact us today if you have any questions, suggestions, or concerns about purchasing our products.