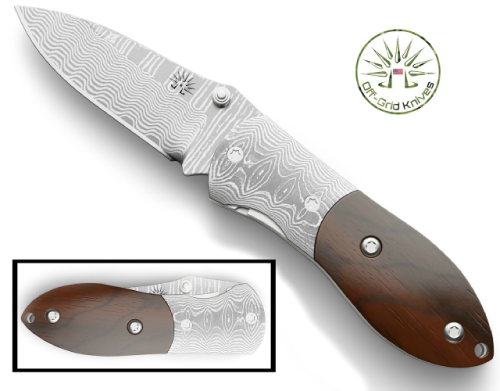 Your knife says a lot about you. Carrying a knife in the first place lets others know that you're serious about being prepared for anything. The knife you choose to carry says a lot about your personality too. Are you the tactical type that prefers a stealthy blade or would a classic gentleman's design fit you better? Either way, we've got you covered with models that will meet all your needs.
Classic Looks
For lots of us, a wooden handled knife brings back happy memories of times around the campfire when our dad or granddad would pull out his weathered wood grained pocket knife to sharpen a stick for marshmallows. A classic polished wood knife from Off-Grid Knives can be your way of keeping that tradition alive with your family. They'll remember the classic good looks of that blade for years to come just like you have.
Modern Features
Off-Grid designs allow you to have the best of both worlds, the classic old-school looks of a polished wood knife with the features of a modern blade as well. We've added thumb studs for easy one-handed operation and lanyard holes allowing for another method of carrying. We've added liner locks too, something your granddad might not have had. When that blade locks in place in the open position, you'll be confident it will stay that way until you're done with the task at hand. Our folders are the perfect size for everyday carry and concealment is easy as well.
Off-Grid Value
At Off-Grid, we love knives as much as you do, and our goal is to provide top quality knives at affordable prices to fit any budget. Our blades will serve you for years to come too, and we back that up with a lifetime replacement guarantee and excellent customer service. We are passionate about what we sell and are always looking for ways to improve our products and customer service. Contact us today if you have any questions, suggestions, or concerns about purchasing our products.