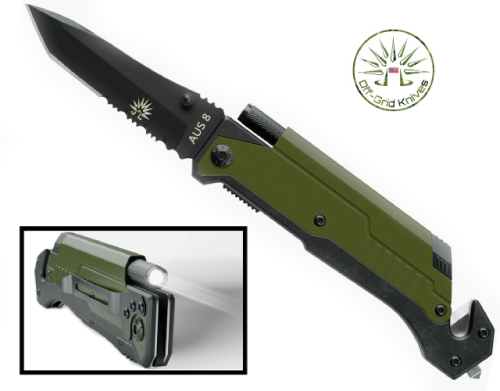 Sometimes a bigger knife is better, maybe for camping or survival, but there are other times when a smaller stealthier model is the right tool for the job. For those times, a mini spring assisted knife is a great blade to have in your hand to help you face whatever challenge life sends your way.
Stealth and Speed
Stealth and speed are a great combo, especially for self-defense. At Off-Grid Knives, our spring assisted flippers open with a smooth motion and lightning quickness, making you ready for action anytime. Plus, our compact models are easy to conceal and allow for multiple carrying options, including deep pocket carry, clipped onto your belt, or using a lanyard.
Stealth and speed are good for lots of other applications too. The quicker and easier your everyday carry knife is to operate, the quicker you'll get all those everyday tasks completed. A stealthy knife is easier to carry too. If you're on the move all day, a comfortable mini folder is the ideal option to have in your pocket.
Loaded with Options
Just because our compact models are smaller, doesn't mean they don't have any options. We use AUS8 steel blades that are durable and resistant to corrosion, plus our tactical models include a semi-serrated edge as well. With dual thumb studs, you'll be able to open the knife with either hand, leaving your other hand free. Then when the blade is open, it'll stay in place with a rock-solid locking mechanism until you're ready to close it.
We don't skimp on ergonomics with these knives either. They're designed to fit comfortably in your hand, giving you the same secure grip you get with our bigger models.
At Off-Grid, our goal is to make great knives that provide outstanding value at prices that are affordable to everyone. We are committed to providing you with the best buying experience possible, so reach out to us today and let us provide you with the right edged blade for your needs.