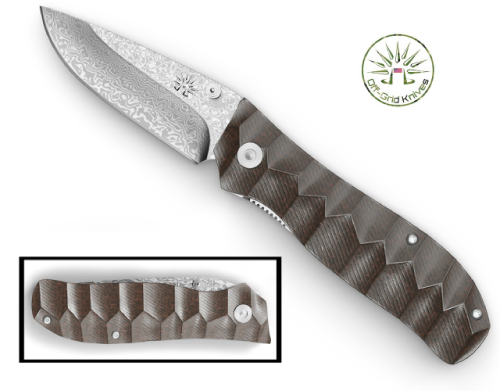 Folding knives are smart to have with you at all times because they're easy to carry and can be used for countless everyday tasks. With a simple pocket knife on hand, you'll never be stuck searching around for a blade when life throws a challenge your way. When you add on some tactical options, a simple folder can be transformed into a tool that will provide exceptional service at home, on the trail, and even on the job.
Options
At Off-Grid, we've designed our tactical folding knives to be highly functional with options that you'll appreciate. For example, check out our assisted flipper models. They've been designed with thumb studs and flipper levers to enable one-handed operation with lightning-quick deployment. Most models come with adjustable pocket clips and lanyard holes allowing for multiple methods of carrying too. With other options like glass breakers and semi-serrated blades, you're sure to find a blade that fits your needs.
Blade Shapes
Drop point blades are very popular, and we've got plenty to choose from, but don't be surprised if you fall in love with one of our other distinctively badass blades. Imagine the looks of envy when you deploy your Cleaver Flipper at a barbeque to slice a steak. Or how about the aggressive Hawkbill Tanto Flipper to add some unique style to your collection? Or you could opt for the Seadog Flipper with its impressive reverse tanto design that's a big hit our military and first responder customers.
Off-Grid Dependability
Our tactical folders have been built to last, and we back that up with a lifetime guarantee and excellent customer service. If you're looking for tactical folding knives for sale, you'll find blades that have all the options you need at budget-friendly prices. We are committed to providing you with the best buying experience possible, so reach out to us today and let us provide you with the right edged blade for your needs.