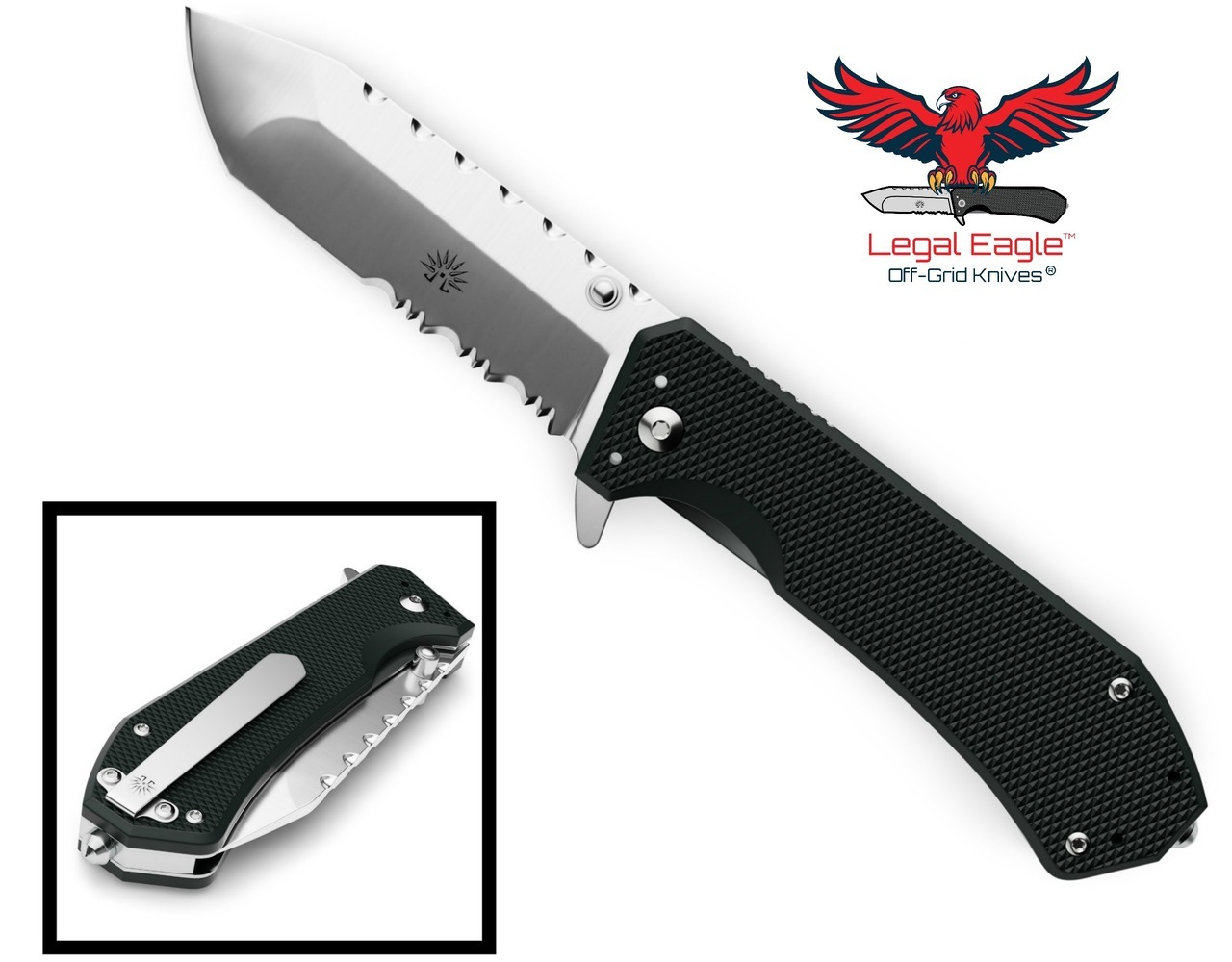 A tactical assisted knife is suitable for self-defense as well as use on the trail and every-day carry. You need a tactical knife you can rely upon, in any scenario. Even better if the knife looks as good as it functions. Off-Grid knives look cool and meet your needs with high-grade steel and excellent deployment.
Every-Day Tactical
Our tactical assisted knives are suited for every-day carry, as a result of their light weight and toughness. We have knives that are ideal for deep pocket carry, accessible when you need them and unimposing when you don't. You can rely on our knives in an emergency, thanks to fast deployment options and safe, secure mechanisms which keep blades firmly in position. This is vital whether you need to keep your knife closed, while carrying it in your pocket or backpack, or open when you need it most.
Off-Grid Design
We design all our knives in-house. As a small American company, we put the every-day needs of real American knife users first – promoting safe and reliable use at an affordable rate. Our designs reach a perfect balance of style and function. You can look great with a cool knife that opens and closes smartly, impressing with multi-functioning blade edges. When it's time to use the knife, you will feel the superiority in performance of our Aus 8 Japanese steel.You might like the design so much you'll want to adopt it as your every-day carry tactical assisted knife, knowing it's up to the task.
Off-Grid Guarantee
You can count on your Off-Grid knife reaching the level of quality you need on the trail, or at work. We manufacture blades and handles to a high standard while keeping prices affordable by designing in-house. Off-Grid knives all come with a lifetime replacement guarantee and our excellent customer service. We are proud to offer this for all our tactical assisted knives because we have confidence in our product and its ability to get the job done. If you have any questions about our products and or want help with a purchase, call us, and we will be happy to help.