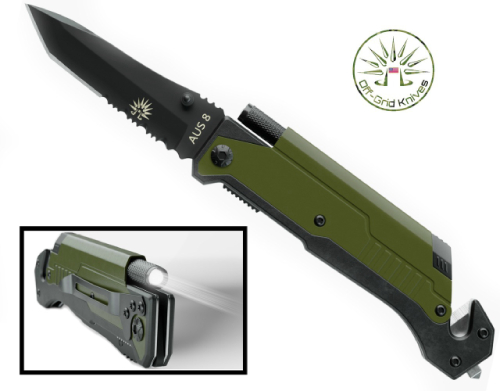 Whether you're heading out into the wilderness or just working around the house, at Off-Grid Knives, we're here to make sure you've got the best blade to fit your needs. Carrying a knife says a lot about you and the importance you place on being prepared and self-reliant. Choosing one of our blades says a lot about you too.
Off-Grid Features
Our goal is to produce top quality knives that are packed with useful features at affordable prices. If you opt for one of our assisted flipper knives, you'll find versatile options like flipper triggers and thumb studs that allow for lightning fast deployment. Or if you're interested in a more distinctively shaped blade, check out our Hawkbill Tanto or Cleaver flippers. You won't be disappointed, because these knives aren't just cool to look at, they're easy to operate and conceal too.
Quality Materials
Whether you prefer a classic polished finish in or a more tactical non-reflective blade, you can be sure that our knives will live up to your tough standards. We start with Japanese AUS8 steel and take the extra step of applying cryogenic treatments to make our blades razor sharp and resistant to corrosion. If a low-profile finish is a must, we use titanium nitride make our blades extremely durable and stealthy too.
We don't skimp on our handles either. You'll find top-quality G10 and reinforced fiberglass nylon materials in our ergonomically designed handles, making them tough as nails and super grippy too. Whether your hands are covered in sweat, rain, or even blood, your knife will stay put until the job is done.
Variety and Value
We're proud to offer a great selection of knives that are perfect for a variety of activities such as hiking, hunting, survival, and everyday carry. We love knives as much as you do, and we love a good value too, so our knives are made to last and give you the best bang for your buck. If you have any questions about our products and or want help with a purchase, call us, and we will be happy to help.