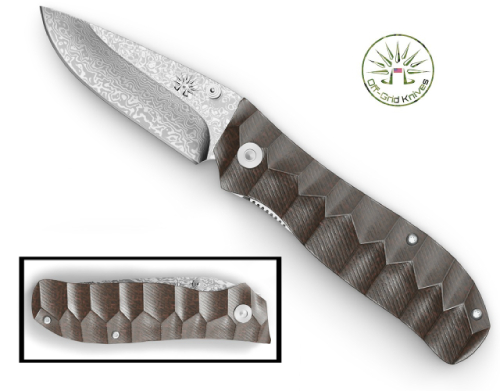 There's never been a better time to be in the market for a folding knife. These days, folders come in many categories and are suited for activities from simple everyday tasks to wilderness survival and everything in between. One thing remains the same with folding knives though, the handle is the part of the knife you see and work with the most.
Materials
It's arguable that the most important part of a knife is its handle, so it's important that it be constructed from quality materials. After all, a folding knife handle is the part that you are constantly in contact with, and it protects the blade when it's not in use, keeping it sharp and ready for action.
With materials like G10 and fiberglass reinforced nylon, our handles provide you with a secure grip, giving you the confidence needed to get the job done quickly and safely. In addition to being extra grippy, they're tough as nails too. You won't have to worry about your blade when it's stowed in an Off-Grid handle.
unctionality
At Off-Grid Knives, we've designed our folding knife handles with convenience and functionality in mind. We all have our preferred method of carry, so our handles give you the option of carrying in your pocket, clipping to a belt, or attaching a cord through a lanyard hole. Our locking models keep the blade secured and safe while the knife is open until you decide to close it.
Great options don't mean much if you can't keep a solid grip on your knife though. Our ergonomically shaped and textured handles will fit your hand comfortably and stay put in your hand regardless of the conditions.
We're proud of our knives, and we stand behind them too. You won't find better customer service or a better value anywhere else. We are passionate about what we sell and are always looking for ways to improve our products and customer service. Contact us today if you have any questions, suggestions, or concerns about purchasing our products.