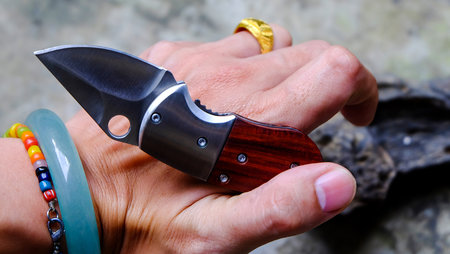 When you head out into the field, you want the best tools available with you because you never know what might happen. Whether you're camping, hunting or even defending our nation as a member of the armed forces, you could be faced with a survival situation, and you need to be ready for it. When that does happen, having a fixed blade knife in your hand can be the difference between making it home safely or not at all.
Survival Situations
Some people only see knives as weapons and have no knowledge of all the benefits a good knife can provide. Sure, if survival involves a fight, a knife is a great option to have for self-defense. Sometimes however, survival just means something as basic as staying warm and dry or having a fire to boil drinking water or even opening a can of food. A good knife can help in all these situations and many more.
Why a fixed blade?
A big advantage of fixed blade knives is the strength and durability of that single blade. These knives have no moving parts, and that means there are no parts to break or wear out. When you're performing a prying, jabbing or stabbing motion, the last thing you want to worry about is that blade coming back on your fingers. In those situations, a fixed blade will give you the confidence you need to get the task done quickly and safely.
Variety
These knives come in all shapes and sizes, so you'll have plenty of options to choose from. Whether you're looking for something with a bit more heft or a lightweight model, you can't go wrong with a fixed blade. There are plenty of options for sheaths too, allowing for different carrying positions for easy access and quick deployment.
When you're ready to add to your collection, you can count on Off-Grid Knives to provide the support you need to make an informed decision. If you have any questions about our products or want help with a purchase, call us, and we will be happy to help.