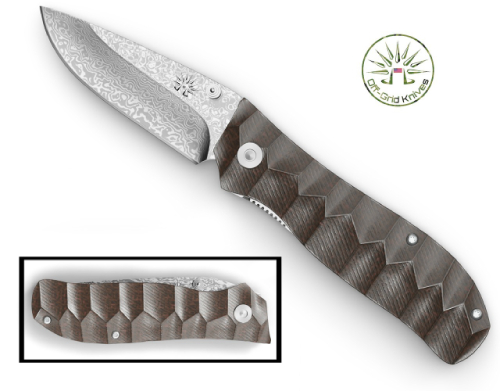 It's arguable that the most important part of your knife isn't the blade, it's the handle. Whether you use your knife for survival or simple everyday tasks, the time will come when you will need it to tackle a dangerous job. If your knife doesn't stay securely in your hand, it won't matter how great the blade is, because you won't be able to use it safely. That's why it makes sense to consider a textured knife handle for the next addition to your collection.
Materials
The first step in creating a safe knife handle is to use quality materials. At Off-Grid Knives, we create knives that you can be confident in by using handles made of G10 and fiberglass reinforced nylon. This makes our handles tough and grippy, and that's a combination that will give you confidence in any of our products. The last thing you need in a tight spot is a slippery knife handle. You can be sure that your Off-Grid knife will be there to help finish anything that comes your way.
Design
The next step is to design a handle that's ergonomically shaped to fit comfortably in your hand. The proper shape will keep your knife where it needs to be until you decide to stow it away again. Finally, our products include a textured knife handle to complete the package. This combination of features will keep your blade safely in your hand which will give you the confidence to get the job done safely and correctly in adverse conditions.
Share Our Passion
Whether you want a military-inspired tactical folder, a bold Hawkbill Tanto Flipper, or anything in between, we're here to make your online buying experience as smooth as possible. We love knives as much as you do, so we'd love to hear from you. We are passionate about what we sell and are always looking for ways to improve our products and customer service. Contact us today if you have any questions, suggestions, or concerns about purchasing our products.