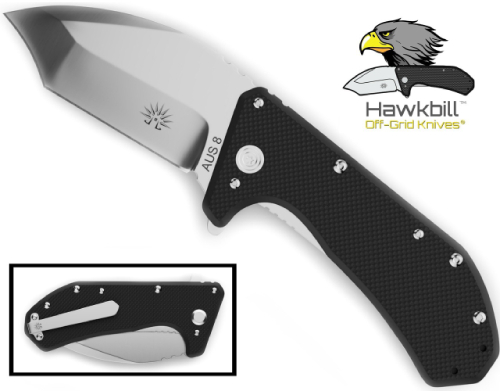 What folding knife features are important to you? Maybe deployment speed, ease of use, or one-handed operation? Maybe all of them? The good news is you can have them all when you buy a spring release knife online from Off-Grid Knives. We have several spring assisted models that will impress you and your fellow knife enthusiasts right out of the box.
Speed
As the saying goes, when seconds matter, help may be minutes away. Whether a knife is your first line of defense or not, the quicker you can deploy it, the better. If you see self-defense as a primary purpose for your knife, a spring release knife is a great choice. A blade that requires two hands to deploy is ok for some applications, but not when it comes to protecting yourself and your family.
Convenience
You don't have to have a bad guy in front of you to benefit from a knife that's quick and easy to deploy. For all those tasks that we use our knives for day after day, it just makes sense to make them faster and simpler. Plus, with one-handed operation, you'll have a free hand to help with more complex jobs.
Our cool spring assisted flippers employ a lever that gets the blade moving, then the springs take over to open the knife lightning fast. Some models include thumb studs for another opening option. With a little practice, you'll be able to use either method safely and easily.
Check out our Rapid-Fire Coyote, an assisted flipper blade that will blow you away with its speed and versatility. This military grade knife is ideal for the tough punishment dished out during camping, hiking, or even everyday carry.
At Off-Grid Knives, we're a small American family business, and we pride ourselves in producing top quality knives at affordable prices. If you have any questions about our products and or want help with a purchase, call us, and we will be happy to help.