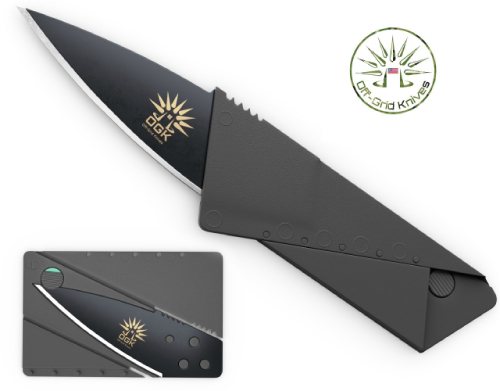 One thing that you probably always have with you is your wallet. If you want to be sure you always have a knife with you as well, a wallet knife might be your solution.
What is a Wallet Knife?
A wallet knife is a general term for knives that are slim and small enough to fit in your wallet. They typically have thin blades and smaller handles. Of course, our wallet knives are made with our quality materials and are backed by our lifetime guarantee.
Our Wallet Knife Selections
Our Off-Grid Credit Card Knife is the size of a credit card when folded. The surgical steel blade is perfect for those unexpected moments when you need a knife.
You can unfold the knife in three steps. First, you release the safety catch. Next, you flip the blade into its upright position. Finally, you pull the flaps into the handle and lock it into place.
The handle is made from durable polypropylene and the blade measures 2.5 inches. It's the perfect backup knife. Our Compact Damascus Folding Knife won't quite fit in your wallet, but it's small enough to carry easily and has a sharper, more durable blade.
It weighs just 2.4 oz. Keep it by your wallet, so you always remember to take it with you when you're out and about.
This knife is more than just handy, though. It also looks great. It has a polished wood handle for a sleek, elegant look.
If you're concerned about self-defense for yourself or a loved one, a practical alternative to a wallet knife is our Off-Grid Tactical Pen. This working pen has two ends that can be used for defense. The top point can also be used as a glass breaker. It's made from sturdy aluminum and has an ergonomic grip for writing.
The tactical pen comes in black, gray, and pink and is a discreet way to assure you or a loved one always has a protective item handy.
We are committed to providing you with the best buying experience possible, so reach out to us today and let us provide you with the right edged blade for your needs.