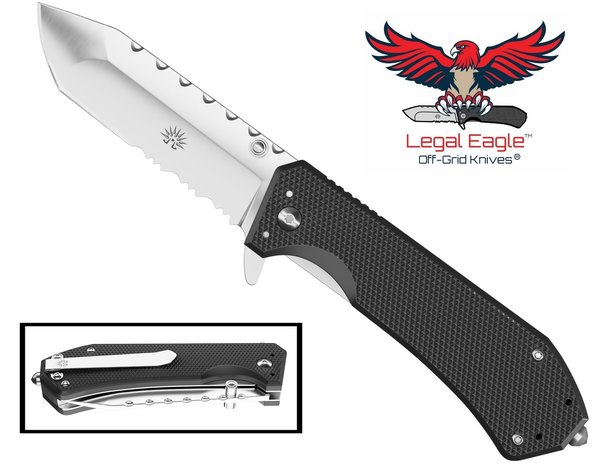 Choosing a new knife is always a process. Making sure the steel is solid and performs how you need it, checking out the flip action and locking mechanisms all take time. The Legal Eagle flipper knife is a solidly built option made by Off-Grid Knives.
Why Choose the Legal Eagle
The knife is made from AUS8 steel, so you know the blade is rust and corrosion resistant, and excellent hardness. The Legal Eagle has a G-10 handle for better grip, with a glass breaker set into the base of the handle in case of emergencies. The steel is both heat and freeze treated, so it's harder than some other AUS8 steels, giving it greater durability. The blade opens smoothly and locks firmly into place when opened, giving you peace of mind.
This is a compact pocket knife designed to be carried comfortably and easily and fits well within the lightweight range. This tanto tip differs slightly from the usual, in a great way. Normally, a tanto tip is a completely straight edge, because these tips are designed for piercing. The Legal Eagle's tip has a slight curve to it, allowing it to be used for cutting as well.
Who Could Use It
Hunters, campers, and survivalists can take this lightweight, easy to carry folding knife with them anywhere they go. It's light enough to be left in a go bag until needed, so Search and Rescue, and preppers can be ready to leave at a moment's notice.
While the knife is small, only 7.23 inches tip to tip, the design is such that even those with larger hands can easily manage the open and closing. There's no reason to pass on this blade just because of its smaller size. The Legal Eagle flipper knife is brilliant, simple to use and sharpen, perfect for first-timers. Knife enthusiasts will love the features and the functionality of the small blade.
If you have any questions about our products and or want help with a purchase, call us, and we will be happy to help