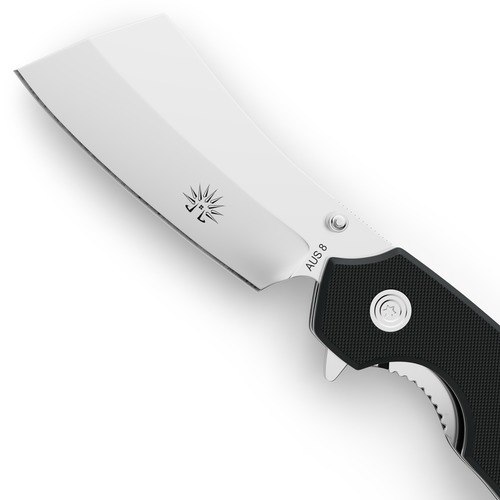 Choosing Off-Grid Knives for your folding cleaver pocket knife ensures you get a razor sharp, high-quality blade at an affordable price. The knife comes with an AUS8 steel blade, which gives you a long-lasting knife that always stays sharp. The blade is treated to give a tough wearing and corrosion free finish that will give you a highly usable tool. The folding cleaver pocket knife fits securely and discreetly into your pocket. The knife has a G10 tactical grip, which will give you a strong and comfortable grip. The knife is also spring assisted for quick one-handed deployment.
Why Choose Off-Grid Knives?
Off-Grid Knives are a small family-owned American business that always aims to provide you with high-quality knives at affordable prices. We design all our knives in-house and have excellent relationships with our suppliers and manufacturers so we can pass savings on to you. Our knives are made with the best quality AUS8 and Japanese steel, which makes for a razor-sharp blade every time. We use the latest technologies in our production methods including cryogenic blade treatments and other techniques currently used by the U.S. Military.
Our solid reputation means that our customer base is prestigious as well as extensive. Our customers include active and veteran U.S. Military personnel, law enforcement agents across the nation including members of the NYPD and LAPD, EMTs, firefighters and other first responders. Off-Grid Knives also has a solid following in the knife enthusiast's community with many members recommending our knives for their high-quality and affordability.
Choosing Off-Grid Knives for your folding cleaver pocket knife ensures you get all of this quality and recommendation. Your knife will be a razor-sharp knife suitable for all your everyday carry needs and is guaranteed to beat all competitors in this price range.
We are passionate about what we sell and are always looking for ways to improve our products and customer service. Contact us today if you have any questions, suggestions, or concerns about purchasing our products.