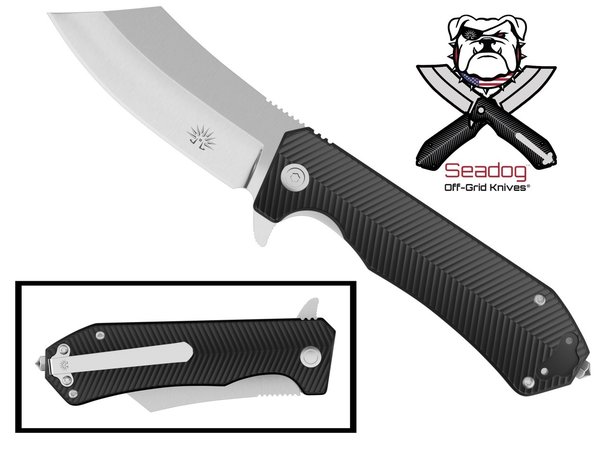 Are you looking for a knife with a simple, classic shape that can be adapted to a variety of tasks? A reverse tanto folding knife is a strong, durable blade that could be an asset for any outdoor person to carry.
Of course, any knife is only as good as the steel it's made from, which is why Off-Grid Knives has brought one made from AUS8 steel. Tough, dependable, with an awesome cleaver shape, the Seadog is a perfect example of why you should choose a reverse tanto folding knife.
Advantages of a Reverse Tanto Tip
A tanto knife was designed to puncture heavy objects, originally armor. That tip strength is still present in the reverse tanto, with a few other advantages.
The reverse tanto knife tip gives you more belly for the blade than a standard tanto, making it better for slicing and cutting. The flatter edge is perfect for dealing with a variety of tasks, particularly to campers. If you're wild camping and your only eating utensils are, for example, a Spork and a knife, having a reverse tanto is perfect for eating. It can also be used to remove thorns and stingers more easily than a normal, curved blade.
Who Can Use It
Military, law enforcement, EMTs, firefighters, and first responders would all find a reverse tanto useful. In rescue situations, this knife is strong enough to pierce the body of a car. The blade can cut seatbelts, rope, or anything else they might run across.
Campers, survivalists, and preppers can appreciate the strength and functionality of a tanto tip with a slicing edge. From a high-quality eating utensil to emergency situations, this knife will be with you every step of the way.
We are passionate about what we sell and are always looking for ways to improve our products and customer service. Contact us today if you have any questions, suggestions, or concerns about purchasing our products.