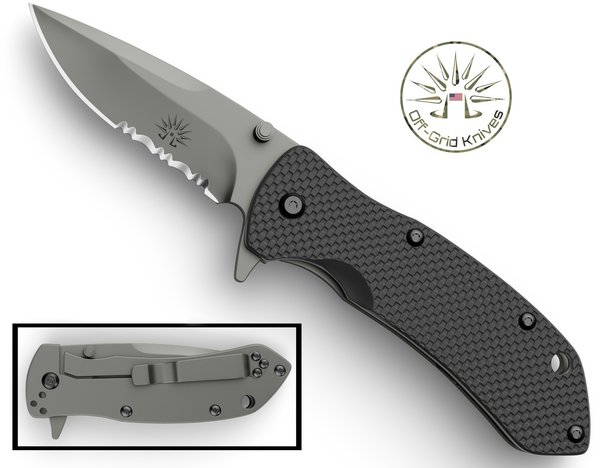 Some people, such as backpackers, prefer to be careful about how much they carry. For them, and others like them, a lightweight pocket knife works best. A tough, durable everyday carry that won't weigh you down.
What Makes a Knife Lightweight
Gone are the days when an 8-ounce blade was a nice, flashlight knife to carry. Modern technology and design techniques have allowed us to shed any excess weight from both blade and handle.
The average lightweight pocket knife can be anywhere from 1 ounce to 5 ounces, though this is entirely subjective. If you're used to carrying an 8-ounce monster, then a 6-ounce knife will feel like a feather, and a 1 ounce one will feel like you can snap it in half with your fingers.
The important thing is to make sure the knife is strong enough for what you're going to throw at it. If you're a hunter or backpacker looking for an EDC, you may want a heavier knife than the urban dweller who will only ever open boxes.
Examples of Lightweight Knives
At Off-Grid Knives, we supply you with knives that are strong and durable, and we never sacrifice functionality for weight. We understand that you'll do more with a blade than just open boxes, and you need a knife tough enough to keep up with you.
The All-Day Nano weighs in at 3.3 ounces but is sharp enough to cut rope or zip ties, and strong enough to be used as a fishing tool, or even in self-defense. Heavier than the Nano at 4.8 ounces, the Legal Eagle tanto flipper knife operates more like a mini tank.
We are passionate about what we sell and are always looking for ways to improve our products and customer service. Contact us today if you have any questions, suggestions, or concerns about purchasing our products.