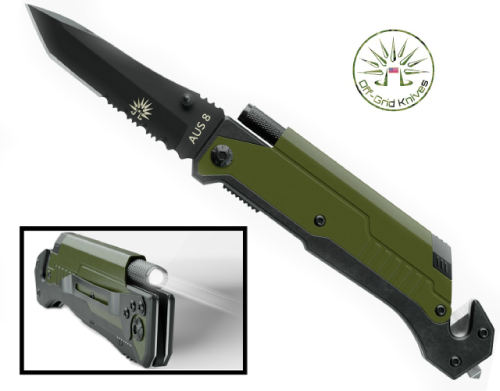 Knives have come a long way since Jim Bowie carried that big blade of his back in the 1800's. The basic parts are still there of course, a blade and a handle, but after that the options are seemingly endless. You can still get a hefty blade like Mr. Bowie's, or if more versatility is your goal, today's designers have got you covered. Now imagine taking that versatility to the next level with a flashlight knife from Off-Grid Knives.
Singlehanded Operation
How often are you faced with a task that involves perfect lighting with plenty of room for easy access? If the answer is always, then good for you, but eventually the time will come when you'll wish you had a flashlight attached to the knife in your hand. Whether it's a moonless night or you're operating in cramped quarters, a flashlight knife gives you the option of using just one hand to get the job done. Instead of holding a flashlight in your other hand, it'll be right there on your knife pointed exactly where it needs to be.
Tactical or EDC
The option of a flashlight is a great idea for tactical knives and everyday carry knives as well. No matter how you plan to use your knife, the ability to light up the task at hand only adds to its versatility. Whether you rely on your knife on the job in law enforcement or for everyday tasks around the house, a little extra light will only improve your effectiveness and even your security.
Knife Evolution
Not too long ago, the convenience that flashlight knives provide just wasn't available. Today's designers are constantly improving their products and adding more options to the delight of knife enthusiasts everywhere. At Off-Grid Knives, we are passionate about what we sell and are always looking for ways to improve our products and customer service. Contact us today if you have any questions, suggestions, or concerns about purchasing our products.