Frame lock knives are similar to their cousins, the liner lock. However, the difference with a frame lock knife is that, with frame locks, a whole portion of the frame moves to lock the blade in place. This creates great security and aids in holding the blade in place by enhancing the natural support you provide with your hand.
Using a frame lock knife has the advantages that include additional security, one-hand open and close, reliability and easy cleaning. For these reasons, many knife users look for a frame lock knife for sale online when choosing their everyday carry.
Below are some of the top frame lock knives available, along with some of their specific features and advantages.
1. Off-Grid Knives – OG-808S
The OG-808S features Japanese Aus8 steel, which is high quality, durable, hard and sharpens to a fine edge. The semi-serrated blade is complemented by its textured G10 handle and rock-solid frame lock, providing reliability that is essential for everyday carry.
It also flourishes in everyday carry because of its reliable blade quality and quick draw handle. Two mechanisms, the dual thumb studs, and the flipper lever, offer fast draw that saves time and means you can use your knife quickly when it counts.
Additional features include a belt clip and lanyard hole, further enhancing the ease of carry that this cool knife offers.
The style of this frame lock knife has a great look and feel, and quality emanates from the unique and original design.
Typical use cases for the OG-808S include hiking, wire stripping, camping, fishing, and even self-defense.
A favorite feature is the quick draw handle that allows for a slick and speedy one-handed open.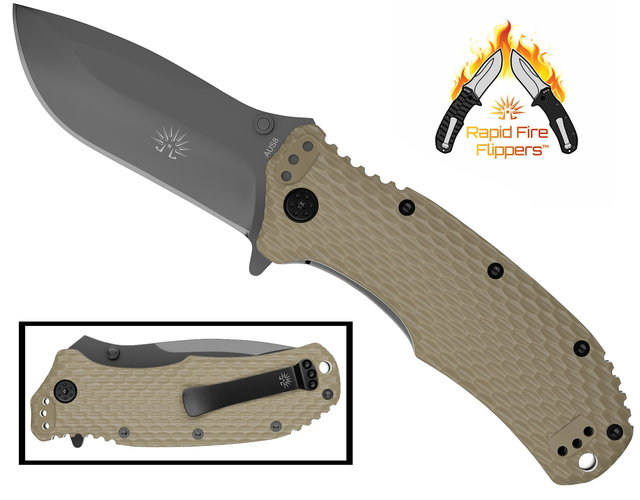 2. Off-Grid Knives – OG-318 Black Mamba
This seriously high-end frame lock knife is an excellent combination of design, weight efficiency, and practical use.
Its Bohler M390 super steel blade comes in a reverse tanto design, which echoes ancient Japanese design aesthetics. The smooth action guarantees a perfect flip every time, which means your knife won't fail you in a pinch.
Every aspect of the knife is finely tuned to guarantee reliability as an everyday carry. The clip of the handle reaches right to the edge for ideal deep pocket carry, as well. Its frame lock knife mechanism ensures security when held in a pocket or backpack.
The build quality is immediately apparent when using the OG-318. Its perfect alignment ensures excellent movement without stickiness or center-travel. This is what makes the OG-318 one of our very top choices.
Lastly, its excellent 6AL4V titanium handle feels great in your hand and helps to balance the weight of the knife perfectly. Although the price point is a little higher than other options available in the market, the extra cost transfers to quality that you appreciate every day. The Black Mamba is an impressive blade that will attract attention and always look cool when you break it out.
3. Reate Knives Wave
This unique knife has a three-shade anodized titanium handle which looks really impressive when you're out and about, using your knife.
The handle is made using 3D machining technology, which gives the spirit of the knife a modern technical feel. The Wave is definitely an option to consider as an everyday carry or knife for special occasions.
Although it's an attractive knife, it loses out slightly due to its high price point, and deep pocket carry requirement as the handle protrudes slightly.
However, this blade features excellent quality M390 steel which sharpens well and guarantees excellent performance when open.