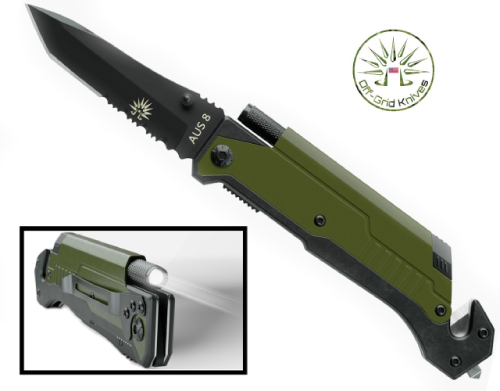 If you are looking for an aggressively made folding knife with quick spring assisted flipper action that won't cost you an arm, and a leg, the Spring Knife by Off-Grid Knives is an excellent choice. This durable piece comes in a variety of attractive styles, is easy-to-use, and will last for years upon years of hard use.
About the Company
Off-Grid Knives not only strives to be the best at their craft, but they also strive to be the best in service to their customers.
Every gadget, weapon, and tool forged at Off-Grid has been carefully designed and created with the highest-quality steel, carefully designed to create a highly functional, durable blade.
Our customers base includes active duty military, law enforcement, first responders, collectors, and knife enthusiasts from around the country.
Spring Knife
This strong, sleek-looking blade is the perfect knife to add to your collection. Ideal for right or left carry, the spring knife is as intimidating as it is strong. When closed, the clip ensures that it attaches and stays deep in your pocket, minimizing the risk of accidental loss.
Knife Features
The majority of these steel blades feature an in-house designed Cryo AUS8 Hawkbill Tanto style. The G-10 grip is strong and ergonomic and makes the knife easy to grasp.
Deploying the blade is simple. Merely flick the lever and the blade is ready for use.
Many of these style knives have a cutting edge of 3.25" and a grip of 4.875" leaving the whole knife at roughly 8" when fully open. They weigh roughly 7.4 ounces, though the weight and the exact dimensions may vary depending on what style of spring knife you choose.
More Information
If you have any questions about our products and or want help with a purchase, call us, and we will be happy to help.