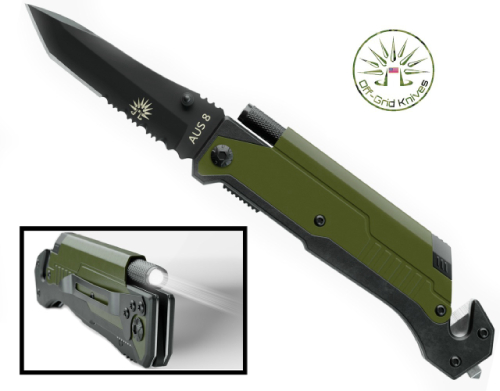 When you're faced with a survival situation, a razor-sharp knife can be your best friend. The quicker you get a fire started, paracord cut or bandages sliced, the better your chances of survival. And all those things happen more quickly, easily, and safely with a razor tactical survival knife.
Toughness and Durability
At Off-Grid Knives, our blades are made of strong AUS8 steel that's cryogenically treated to make it corrosion resistant and able to hold a razor-sharp edge. The longer your blade stays sharp, the less time you'll have to spend maintaining it in the field and the more likely it'll be ready for action when you need it.
To increase your blade's scratch and peel resistance, choose a blade with our non-reflective titanium nitride coating. You won't be disappointed with this low profile and stealthy finish.
Options
At Off-Grid, we design our knives with awesome features that will help you deal with any survival situation that life throws at you. Check out our tactical models that include glass breakers, seat belt cutters, and semi-serrated blades. These are the tools you need to tip the scales in your favor and help you walk away from a possible disaster.
We don't skimp on quality when it comes to our knife handles either. We use grippy G10 and reinforced fiberglass nylon materials in our ergonomically shaped handles so that they'll stay in your hand no matter the conditions. Whether you're dealing with rain, sweat, or blood, our textured handles won't let you down, so you can focus on the task at hand.
The Off-Grid Experience
We love knives as much as you do, and our customer service team is here to make sure you're happy with your new badass Off-Grid blade. We are passionate about what we sell and are always looking for ways to improve our products and customer service. Contact us today if you have any questions, suggestions, or concerns about purchasing our products.