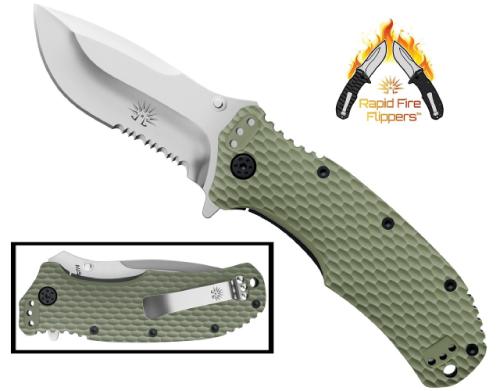 There are lots of knives out there in every shape and size imaginable, but there are none more cool and slick than the Off-Grid credit card knife. You'll never be caught without a blade if you're toting one of these around either. This knife's ingenious design allows it to be easily stashed in your wallet, where it'll be ready for the next time you need it.
How does it work?
We're all familiar with folding knives, but this knife takes the concept to a new level. When not in use, it safely stores in your wallet, and since it's the size and shape of a credit card, you won't even know it's there. Then when you need it, it folds into a 2.5-inch blade with its own handle and is ready for action.
Uses
You may be thinking this knife has a limited number of uses but think again. Consider all the simple jobs you use your pocket knife for, there's sure to be a lot of them. If you're stuck without a knife, the Off-Grid credit card knife will be there to help you complete those tasks. That's the beauty of this knife since it's compact and easy to carry, it will always be there for you.
Quality Construction
Now you're not going to use this knife to chop firewood or skin an elk in the field, but you won't be rummaging through a drawer the next time you need a blade either. They're made using quality materials like a surgical steel blade and a polypropylene handle, so they're built to last.
The Off-Grid Knives Promise
Owning a credit card knife shows your commitment to always being prepared. At Off-Grid Knives, we're committed to you, and we back up our products with a lifetime guarantee and exceptional customer service. We are passionate about what we sell and are always looking for ways to improve our products and customer service.