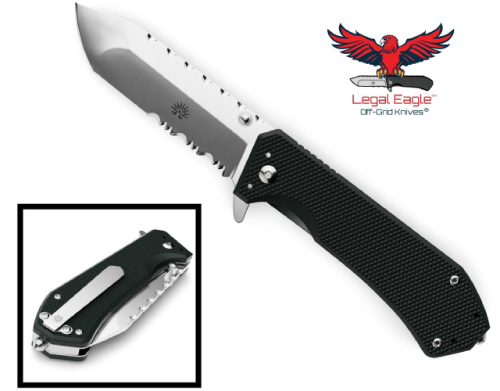 When it comes time to add some variety to your knife collection, a Japanese tanto folding knife is a perfect way to go. Years ago, the tanto design was originally used for Japanese swords that were tough enough to pierce armor. That influence lives on today as the tanto shape is well known for its strength and durability.
The Steel
At Off-Grid Knives, our tanto blades start with quality Japanese AUS8 steel, and then we take it up a notch by applying cryogenic treatments to make them resistant to rust and corrosion, but still able to sharpen to a razor-sharp edge. Taking this extra step gives our blades the edge on the competition while still allowing us to produce them at an affordable price point. This strength and the tanto shape will give you plenty of power to punch through tough materials that other blades can't handle.
The Design
We design our knives in-house and take pride in bringing highly functional and attractive blades to market. Whether it's the striking looks of the Hawkbill Tanto Flipper, the tactically inspired Legal Eagle Tanto Flipper, or the distinctive Seadog Reverse Tanto, you won't be disappointed with our tanto blades. When you add the convenience and functionality of a folder with a tanto blade, you've got a winning combination that you'll be proud to own.
Make a Statement
By adding a Japanese tanto folding knife to your collection, you're making a statement that your fellow knife enthusiasts will notice. The combination of style and strength of these blades make them a bold choice and will give you the versatility to tackle rough jobs that just aren't possible with other blades.
We love knives, and we know you do too. We are passionate about what we sell and are always looking for ways to improve our products and customer service. Contact us today if you have any questions, suggestions, or concerns about purchasing our products.