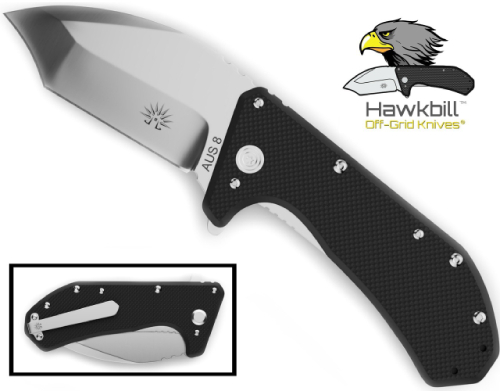 Do you like to stand out from the crowd or blend in? Are you a risk taker or do you like to play it safe? Maybe you're a little bit of both? With a Hawkbill Tanto Flipper from Off-Grid Knives, you can have the best of both worlds. This blade makes a bold statement and is versatile enough to get the job done quickly and safely too.
Impressive Design
The first thing that jumps out at you about the Hawkbill Tanto is the blade. Tanto blades are known for their toughness, but this one takes it up a notch with a big piece of AUS8 steel forged into an aggressive shape. Once it's deployed, it's sure to impress your friends and intimidate any bad guys you come across.
Just for show?
Absolutely not. Adding a Hawkbill to your collection is a great idea, but this knife wasn't made to sit in a box on a shelf. This spring assisted flipper was designed for action and comes with a rock-solid liner lock.
Opening and closing can be done with one hand, and the ergonomic G10 handle will stand up to the elements and stay put in your hand too.
A versatile clip allows you to carry in a pocket or on a belt, in a tip-up right or left configuration. With all those carrying options, you won't need a Hawkbill knife sheath.
Off-Grid Value
At Off-Grid we design our knives in-house and we are especially proud of the Hawkbill because it combines eye-catching good looks with lots of great features at an affordable price. If you're ready to make a bold statement, step up to the Hawkbill Tanto Flipper, you won't be disappointed.
We are passionate about what we sell and are always looking for ways to improve our products and customer service. Contact us today if you have any questions, suggestions, or concerns about purchasing our products.