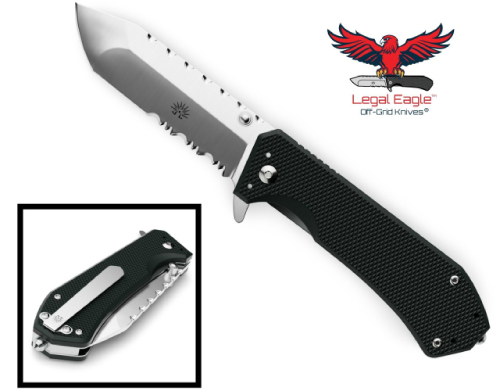 Camping comes with its own set of challenges when compared to other outdoor recreational activities. In the wilderness, you never know when you'll need a knife to keep you safe, and that's magnified when you're at your favorite campsite for several days. A folding camping knife is the tool you need to complete simple camping tasks and to deal with situations when your survival is on the line.
Camping Features
The best feature your camping knife should have is toughness. Quality materials and construction will ensure that your knife can withstand the abuse camping and survival can dish out. Off-Grid blades are made from tough AUS8 steel and durable handles that will take that abuse and come back for more.
Our spring assisted flippers are perfect for camping because they open with lightning quickness and single-handed ease. That gives you the advantage of being ready for anything at a moment's notice. They stay open too, using solid locking mechanisms to keep you safe as you tackle tough tasks.
Carrying Options
A good folding camping knife can be carried using different methods. If deep pocket carry is best for you, that's an option. Maybe clipping a folder on your belt is your preference, no problem. Many of our knives come with lanyard holes too, giving you the option of using a cord to attach it to your backpack or wear around you neck. The key is versatility. The more comfortable you are with a knife, the more likely you'll have it with you to get out of a tight spot.
Buy Online with Us
We don't just make quality knives, we stand behind them with excellent customer service and a lifetime replacement guarantee too. We're here to make your online buying experience smooth and easy. We are passionate about what we sell and are always looking for ways to improve our products and customer service. Contact us today if you have any questions, suggestions, or concerns about purchasing our products.