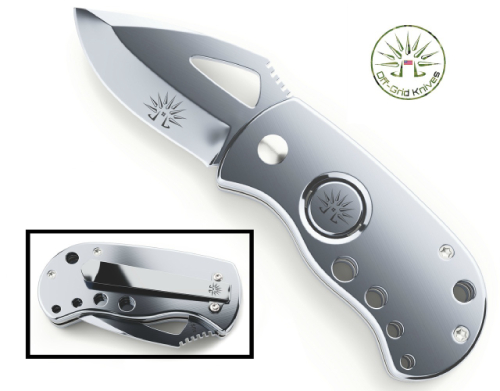 Let's face it, a hefty blade leads to a hefty knife that can handle tough jobs with ease. When you've got a solid chunk of steel in your hands, you'll have the confidence to make decisive cuts quickly and safely. When you're ready for a folder that's built like a tank, look no further than the Off-Grid Fat Boy Pocket Knife. This fat blade knife is an excellent choice to give your collection some bulk while still providing lots of useful features.
Stout and Compact
The Fat Boy is a folder that's beefy enough for big jobs but compact enough for everyday carry. And since it's a folder, it fits in your pocket with a deep clip that keeps it securely in place when you're on the move. Keep in a pocket for concealability or clip it to your belt for easy access, whatever your preference. When you deploy the Fat Boy you'll be happy to see that it performs like a knife three time its size.
Ease of Use
When you open this knife, it stays open due to a solid liner lock that keeps you safe. Then with the press of a button, you'll be able to conveniently close it with just one hand, keeping your other hand available for an added level of safety. It's ergonomically designed handle fits comfortably in your hand and combines with a limped thumb ramp for amazing grip and enhanced control. This knife is versatile too, making it the ideal tool to have at home, in the car, or in the great outdoors.
The Off-Grid Difference
Our goal is to make great knives at great prices, so you won't find a better value anywhere. To match our quality products, we provide excellent customer service too. Unlike the bigger knife makers, we'll treat you like family because we're knife enthusiasts just like you. We are committed to providing you with the best buying experience possible, so reach out to us today and let us provide you with the right edged blade for your needs.