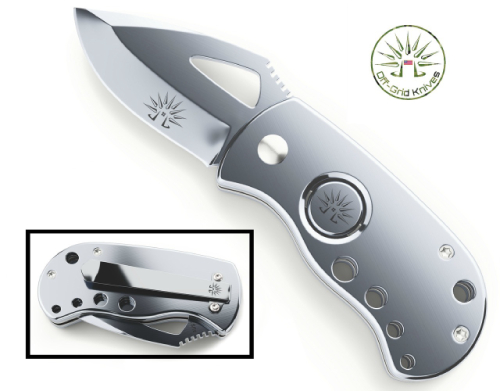 Choosing a knife to always have with you is a big decision. After all, this tool is going to be in your pocket every day for years to come, helping you take care of all the tasks that come your way. Taking some time up front to consider how you plan to use your knife is important. It can be a tough decision, but at Off-Grid Knives, we've got plenty of EDC pocket carry knives to choose from that will serve you well for years to come.
How do plan on using your EDC knife?
How you'll use your knife is a key consideration. If you are on your feet a lot, then a light and compact model with a comfortable deep pocket carry clip could be right for you. Maybe you'll use your knife on the job in law enforcement or the military, so you require a blade with a semi-serrated edge and a glass breaker. Or if you hunt a lot, a drop point blade made for skinning game will serve you well at home and in the field alike.
Distinctive EDC
With Off-Grid, you're sure to find the blade that's right for you, but don't forget to check out our bold designs before you make your decision. Your choice in an EDC pocket carry knife can be highly functional and show your sense of style too. We have distinctive blade shapes including cleaver, reverse tanto, and Hawkbill tanto that will be perfect additions to your collection. Don't let these special designs fool you though, they still make excellent choices for everyday carry.
Our Online Experience
With all the options available in knives today choosing one can be tough, but we're here to make the process as easy as possible. We're proud of our products, and we stand behind them with a lifetime replacement guarantee and the best customer service in the industry. If you have any questions about our products and or want help with a purchase, call us, and we will be happy to help.