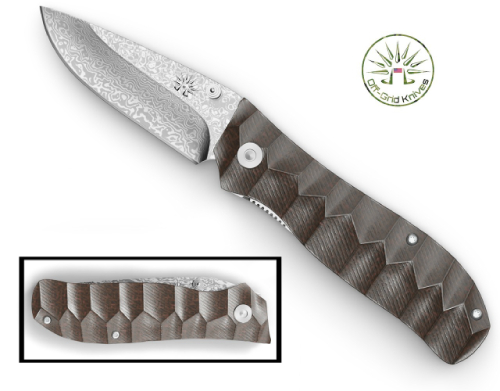 If you're looking for versatility in a blade, you can't go wrong with a drop point. It's a very popular blade shape for a reason, because it can get the job done. Its shape allows for a long cutting edge, making it ideal for slicing and cutting almost anything. They're popular for hunting and survival purposes, but that's not all. Read on as we cover more about this great blade.
Drop Point Shape
This unsharpened back of this blade starts from the handle and runs in a long curve to the point, which sits lower than other blade shapes. From the point, the sharpened edge drops down then curves more severely until it flattens out as it runs back to the handle.
It's this shape that gives the blade exceptional control, a very strong tip, and a longer cutting edge than other varieties. These features combine to make it such a popular hunting knife, and it's the strength that makes it such a popular choice for all-purpose knives.
Off-Grid Drop Points
The All Day Nano is a drop point pocket knife from Off-Grid Knives that combines a compact frame with plenty of great options. Like our other blades, it's made of tough AUS8 steel, a textured G10 handle, and comes with a dependable frame lock. This flipper can be deployed with one hand and is light enough for comfortable everyday carry.
The Rapid Fire Assisted Flipper is a tactical model that sports a spring assisted deployment system that will blow you away. Using the flipper trigger or the dual thumb studs, you'll have this blade open and ready for action lightning quick. This knife is military grade, so it will serve you well in the wilderness, on the job, or around the house.
We're confident you won't find a finer blade out there at a better price. If you have any questions about our products and or want help with a purchase, call us, and we will be happy to help.