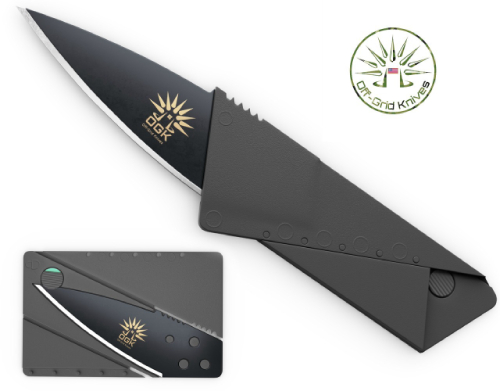 Many people would never leave home without a credit card. Now with a credit card pocket knife, you'll never have to leave home without a knife either. If it's in your wallet, it'll be close by when you need it. These cool blades are a great conversation starter with other knife enthusiasts and they make great gift ideas too.
Big value in a small package
Credit card knives, so called because they're small enough to fit in a wallet, are very useful for a variety of reasons. Because of their small size, they're light, compact, and easy to carry and conceal. Also, they can complete just about any task that a regular small pocket knife can, and they're even easier to carry.
Let's face it though; you won't be using them to chop wood by the campfire or skin a deer. That's fine because that's not what they are designed for. A credit card pocket knife is designed to handle the common tasks that come up often, and it's designed to be there when you need it because it's so easy to carry.
Self-Defense
Don't let their size fool you though, whether it's your first or last level of defense, one of these blades can still make the difference in keeping you safe. It's better to have a knife in hand when you need it than not to have one at all. They are designed for concealability as well, so you'll be able to carry with confidence just about anywhere.
Never be without a blade again
These knives are so compact and handy that it's a great idea to have more than one. Keep one in your backpack for hiking, your first aid kit and glovebox for emergencies, and even your bug out bag because you never know when you'll need an extra blade. It just makes sense to have one on hand in case you need it.
If you have any questions about our products and or want help with a purchase, call us, and we will be happy to help.