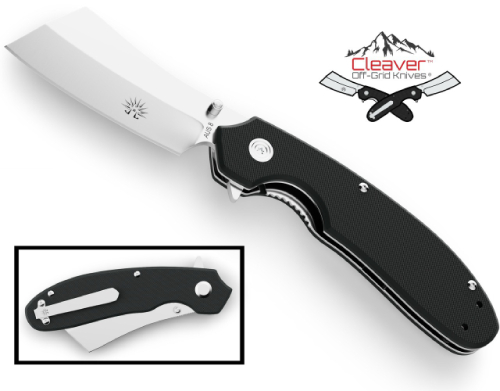 Off-Grid Knives offers a high-quality cleaver folding knife at an affordable price. We use only the best quality AUS8 steel to ensure a sharp and highly usable knife.
Why Should you use Off-Grid Knives?
We are a family-run business that specializes in flip and folding knives. Our experts design each knife in-house and working closely with our manufacturers every step of the way. We are also continuously looking for ways to reduce prices,
without ever compromising on quality. Being a small business, this means we can pass on savings from smaller overheads and our close relationship with our manufacturers.
We also use the highest quality steel for our knife blades. Japanese AUS8 steel is a high-quality yet affordable steel, which maintains a high wear resistance and stays sharper for longer.
Our use of high-quality materials and production techniques are compounded by a prestigious client base including the US Military, NYPD, LAPD, Law Enforcement across the country, fire departments, and EMTs.
Choosing Off-Grid Knives will ensure you get the very best cleaver folding knife for your money.
What to expect from your cleaver folding knife
Our customers are continually telling us that this is one of the sharpest knives they have ever used. With high quality Japanese AUS8 steel, the durable and reliable blade is one of the best of its class on the market. This means your cleaver folding knife will stay sharp for longer and require minimal maintenance.
The blade folds into a tactical G10 grip, which gives you a firm, comfortable hold on your knife even under adverse condition. The size allows for easy deep-pocket storage and easy one-handed deployment.
We are passionate about what we sell and are always looking for ways to improve our products and customer service. Contact us today if you have any questions, suggestions, or concerns about purchasing our products.