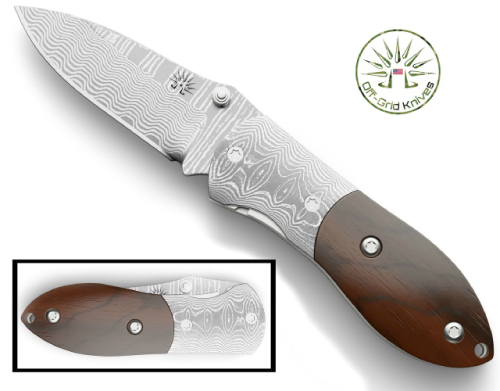 Our cleaver blade pocket knife is a high quality, versatile knife that has a strong and comfortable tactical grip, and it can be stored deep in your pocket.
Why choose Off-Grid Knives?
Here at >Off-Grid Knives, we design all our knives in-house, and we use the quality AUS8 steel available. This gives you the highest quality, most affordable product every time. We work with our manufacturer very closely, so we can target extra savings that we always pass on to you, the customer. The AUS8 steel we use follows a strict production process that the U.S. Military requires for all their tactical knives. This means that each knife has a razor-sharp blade that stays sharp longer.
Our customers often say that their Off-Grid knife is the sharpest in their collection and this is reflected in the countless positive reviews of our products. Our wide and varied customer base also includes the US Military, US Law Enforcement (including the NYPD and LAPD), the Fire Department, and EMTs. Purchasing your cleaver blade pocket knife from Off-Grid Knives will mean that you get the highest quality knife around, for the lowest possible price.
What will you get with your clever blade pocket knife?
A >cleaver blade pocket knife is a multi-purpose utility knife for everyday use. Our design gives you a concealable deep pocket knife that has easy, one hand deployment. Our knives always use custom-designed G10 tactical grips for precise and comfortable use, which gives you a smooth deployment and strong grip, to cover all the uses of your new knife. The blade is made with the highest quality AUS8 steel meaning you get a razor-sharp knife with improved wear resistance. The cleaver blade pocket knife is also designed with a legal carry blade length giving you a comfortable and usable knife all year round.
If you have any questions about our products and or want help with a purchase, call us, and we will be happy to help.