frz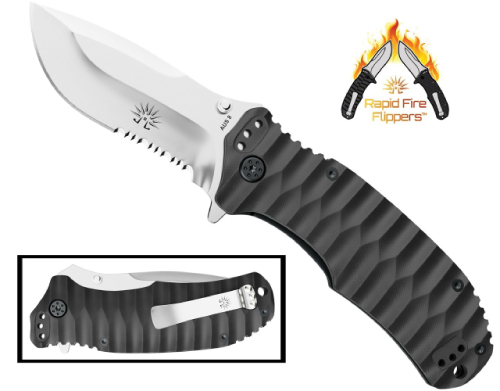 How can you make a great folding knife even better? Make it open like greased lightning, that's how. Folders are a great choice because they're easy to carry and conceal, and they're loaded with awesome features. When you add a smooth and rapid opening action, that just makes choosing an assisted flipper knife an even better decision.
Flipper Features
Two big factors combine to make Off-Grid spring assisted flippers so attractive. First, deployment speed is great to have if you ever need to use your knife for self-defense. Getting that blade between you and the bad guy quickly can be the factor that keeps you alive. Speed also means convenience. The more quickly and easily you can open a knife, the more quickly and easily you can complete everyday tasks. Second is one-handed operation. With features like flipper triggers and thumb studs, you'll have options for opening the knife. You can close the knife with one hand too, so you'll always have a free hand to complete vital tasks easily and safely.
Blades and Handles
Quick deployment is awesome, but without a tough blade and reliable handle, speed won't help as much as you think. Off-Grid assisted flipper knives are made with quality materials like cryogenically treated AUS8 steel and fiberglass reinforced nylon. This makes our blades tough enough to handle rough jobs and still stay razor sharp and gives our handles a secure and ergonomic grip that will stay in your hand no matter the conditions. Our knives are loaded with the same great features that you'll see from the bigger knife makers but at a much better price.
Buying Online with Off-Grid
You can be confident buying online with <Off-Grid Knives because we pride ourselves in providing excellent customer service. We are a small American family business, and we aim to treat you like family too. We are committed to providing you with the best buying experience possible, so reach out to us today and let us provide you with the right edged blade for your needs.