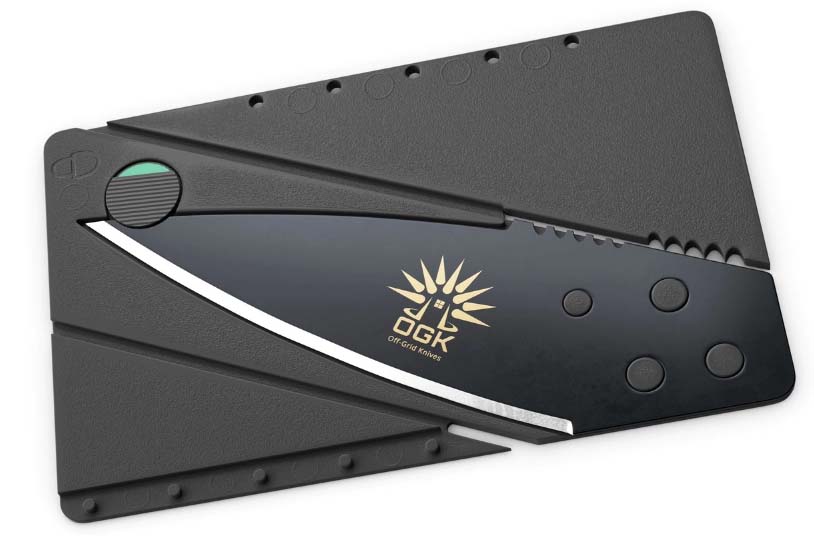 The stainless steel credit card knife has been gaining interest and popularity with knife enthusiasts and people just interested in an EDC lately. Is it for the novelty, and as a collector's piece? Or is it because there is a genuine use for a small knife?
While this will never replace your everyday carry, it's always handy to have an extra knife in your pocket – or wallet, as the case may be. It's not meant to be a replacement carry, but to supplement on the off chance you need a backup.
What Is a Credit Card Knife
As the name suggests, when the blade is put away it resembles a credit card almost exactly in shape, weight, and thickness. To open, you simply press the release catch, flip the blade out, then the edges of the card wrap around the base and clip together, forming the handle. It takes a few seconds to open and put away, making it quick and easy to use.
Features of a Good Credit Card Knife
There should be a clip or lock that prevents the blade opening while in the pocket, with another one to keep it open. While the most common credit card knives have the card portion fold around the base of the blade, there is a wide variation in styles.
The handle should have some type of grip on it to prevent slipping. A popular choice with knife makers is a propylene handle as it is light and has the rubbery grip to it. While a credit card knife will be more complex to open than the typical folding knife, it shouldn't be too complicated. No more than four steps and less is better.
Reminiscent of a scalpel in the thinness of the blade and sharpness, they usually sturdy enough to cut an apple. A good one will be made of a surgical grade stainless steel, as it has the necessary toughness, and corrosion resistance to deal with whatever job you give it.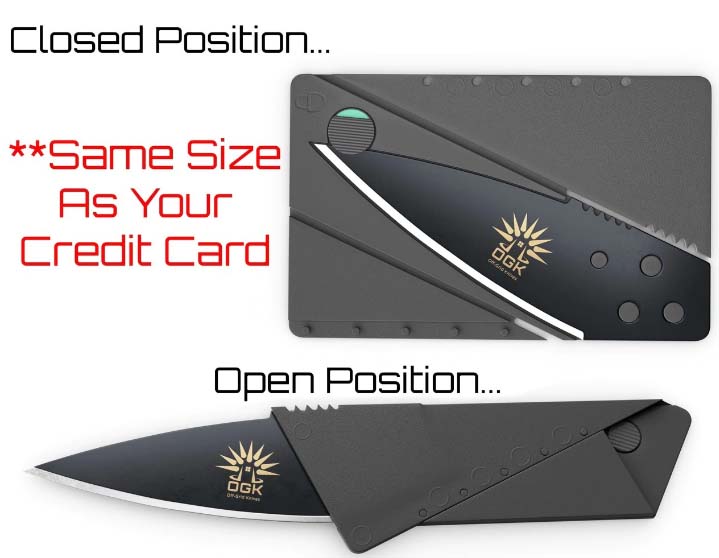 Advantages
Small enough to tuck away, large enough that it can be held and used comfortably, this knife is both affordable as a backup and easy to carry. It doesn't need a whole bunch of space, folding way nice and small, and can be carried easily in a wallet or purse.
It has a very sharp tip, perfect for piercing thinner materials. Made from a good stainless steel, it's quite durable for its size.
Disadvantages
It is not, and can never be, as robust as your standard everyday carry. The important thing is to not try to use it for anything it wasn't designed for. In this case, this means anything tougher than cutting an apple.
Due to its small size, it may be easily misplaced or lost so ensure it is put securely away when you're done. Finally, children may not recognize it as a knife, so it should either be kept away from them, or they should be taught to treat it with the same respect as any other knife.
As anyone who already owns a knife knows, a knife comes in useful in situations that you never even imagined, so it's always a good idea to keep one on hand. When you go to buy a stainless steel credit card knife online, bear in mind that it won't replace your EDC, but support you and your needs.