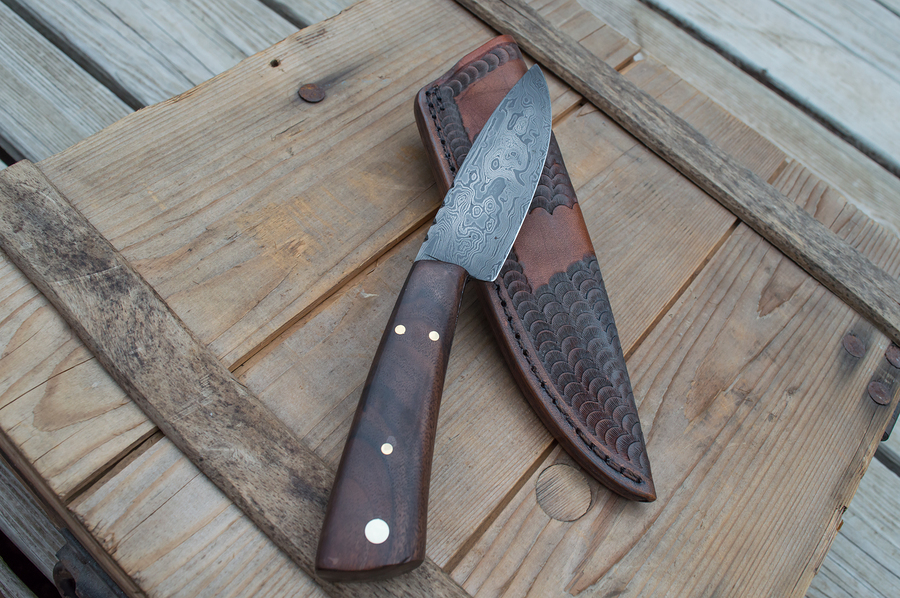 Chances are, given all the different types of knives available on the market today, a stock blade is out there that will fit your needs just fine. There are times, however, when you might have to shop for a custom knife online.
Collectors
Creating a collection of knives from many different categories can be done relatively simply online, even including unique items. When you're looking for a one of a kind blade for survival, that's when you'll likely choose a custom knife.
It may be a special process used to create a patterned blade or an especially attractive wooden handle employed that draws you to a specific knife maker. Whatever the reason, it's understandable, because there are some beautiful custom survival knives out there.
Special Orders
Knife makers have been working overtime for decades to make survival knives to fit just about every need. It's possible, however, that you prefer a combination of features that just don't exist. Or maybe that combination does exist, but you just don't like the knives available.
It's possible you want a knife built to commemorate a special event or as a tribute to someone special in your life.
For these reasons, opting for a custom knife makes sense. You'll just have to make the decision whether a custom survival blade is necessary for your needs.
Advantages
Owning a one of a kind knife is special, there's nothing like that moment when you know that it's a part of your collection. Knife enthusiasts everywhere can agree on that. Something can be said for owning a custom survival knife that has been tailored to your specific needs as well.
If you're going to use your knife in the field, it's tough to put a price on the confidence you'll have in your custom blade knowing that it was made to your exacting specifications.
Disadvantages
Compared to stock knives, when you buy custom survival knives online, they will almost always cost more. Your custom knife might be worth every penny you paid for it, but a stock knife might work just as well at a more affordable price.
Time could also be a factor with custom models. If the custom knife of your dreams hasn't been made yet, you'll have to wait for it. On the other hand, a stock survival knife can be delivered to your door in a couple of days.
Is a custom knife right for you?
Like most questions with knives, it comes down to your personal preference and your needs in a knife. There are some extremely talented custom knife makers today producing knives you won't find anywhere else. They've perfected their craft over many years and sometimes decades, and often they stand behind their products with a lifetime guarantee.
It comes down to value too. If you plan on using your survival knife for many years to come, it might be worth it to you. On the other hand, a quality stock knife could provide a much bigger bang for your buck over the same time.