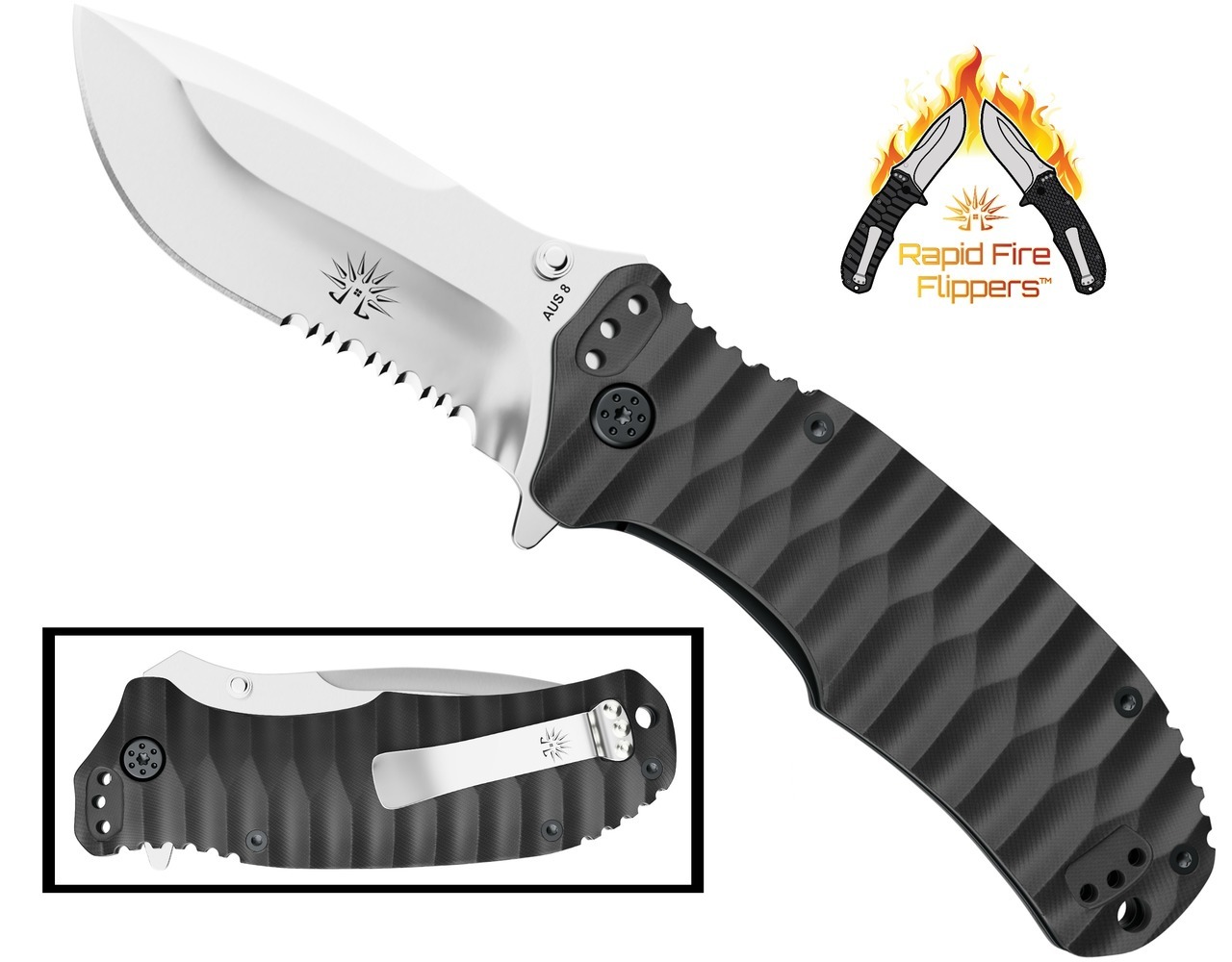 Using combat quality knives as everyday carries is a growing trend in the knife world, due in large part to the durability of these quality blades. As a result, we see knives we normally wouldn't, such as a cleaver style combat knife, often routinely carried.
Since they are for everyday carry, these knives are folders, and if used for self-defense, should only be deployed in extreme measures. As EDCs, they are top-notch, made of quality steel, and - depending on your preference - can function as more than combat knives.
CRKT M16 Law Enforcement
M16 is the knife that made flippers famous. Designed by the famous Kit Carson, this knife can be found in a variety of blade shapes and is the tactical version of the M16. This model comes with a seatbelt cutter and glass breaker. The blade is AUS-8, with a glass filled nylon and stainless steel handle.
Benchmade BKC Bedlam Axis Folding Knife
Made from 154CM steel and a G10 handle, the Bedlam is the perfect combination of form and function. The trailing point makes it ideal for those who enjoy hunting, as you'll never be caught without a skinning knife again. It finishes with an AXIS lock and ambidextrous thumb studs.
SOG Trident Elite Folding Knife
The Trident is one of SOG's most durable designs to date. Made from AUS-8 steel with a glass reinforced nylon handle and rubber over-mold, it has a wicked, semi-serrated blade. The ARC lock and seatbelt cutter complete the ensemble of a knife that will do as well for an everyday carry as it would for a combat knife.
Kershaw Blur Glassbreaker Folding Knife
The first Ken Onion design featured, the Blur was always a great everyday carry. With the added tactical features of a glass breaker and semi-serrations, you're prepared for whatever life can throw at you. The drop point blade is made from 14C28N steel, and a 6061-T6 anodized aluminum handle with Trace Tac inserts and a liner lock finishes the knife.
OG-780 Seadog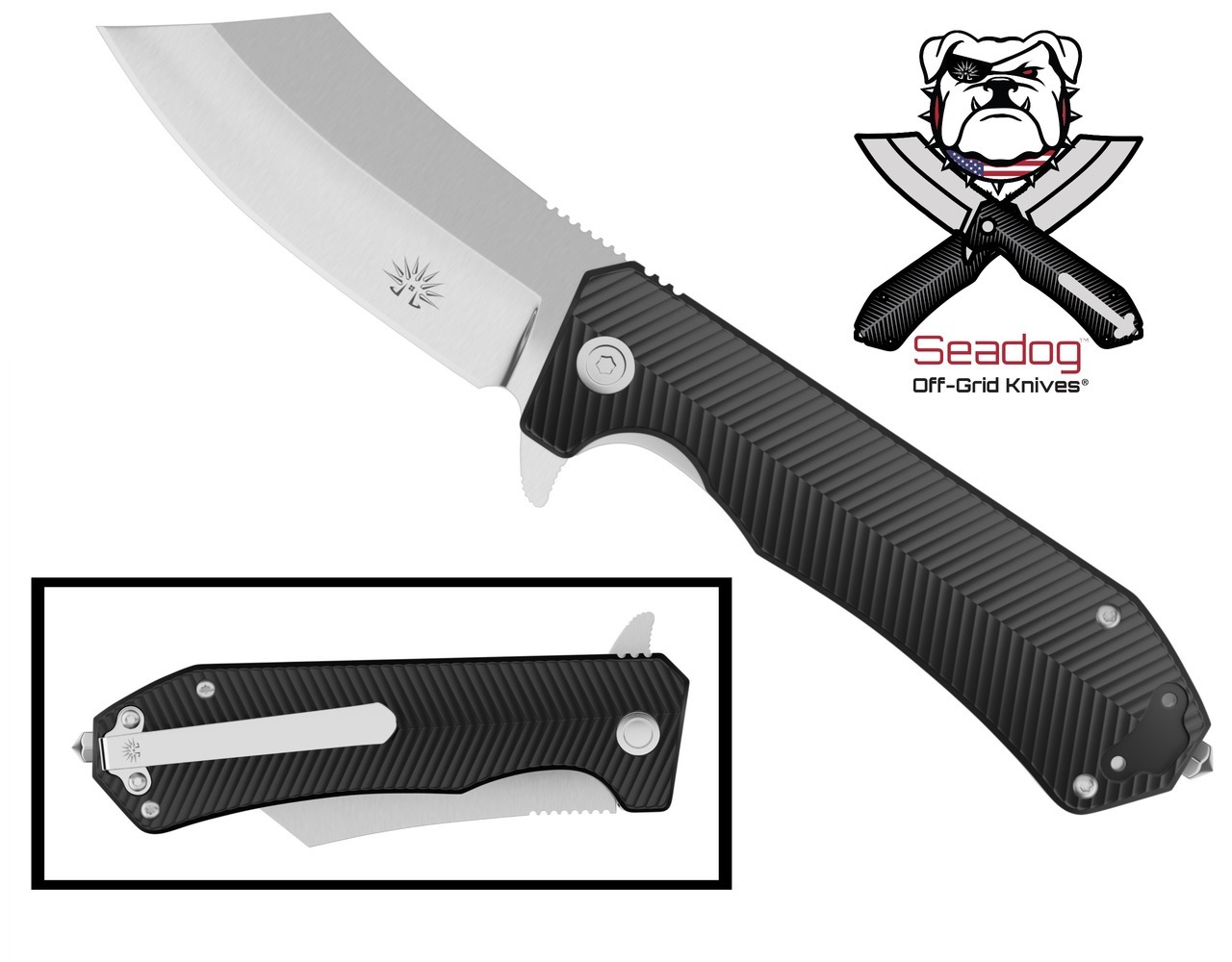 A reverse tanto flipper knife, the Seadog resembles a cleaver but performs like a tanto. A slight belly gives it greater slicing capabilities than a regular tanto while the cleaver style look inspires second glances. Made from cryo treated AUS-8 steel with a G10 handle, a glass breaker finishes off this solid, dependable knife.
Cold Steel Recon 1 Folding Knife
This blade is one of the best, and toughest, knives Cold Steel has ever offered. Made from S35VN steel with a G10 handle, it can take a beating before it needs to be sharpened, has excellent wear resistance and a reliable back lock. Available in a variety of blade shapes, it will last long enough to be passed down to the next generation.
Zero Tolerance Blackwash Hinderer Flipper Knife
As if the S35VN steel wasn't enough on its own, Zero Tolerance added a tungsten DLC Blackwash finish. This tough knife also features a G10 handle with titanium backing, a titanium frame lock and lock bar stabilizer, and a KVT ball-bearing opening system.
Whether you choose a traditional tactical knife for your EDC, or you decide to go for that cleaver style combat knife for sale, make sure you've picked a solid dealer.